Downtown Minneapolis Street Art Festival
August 12-14, 2021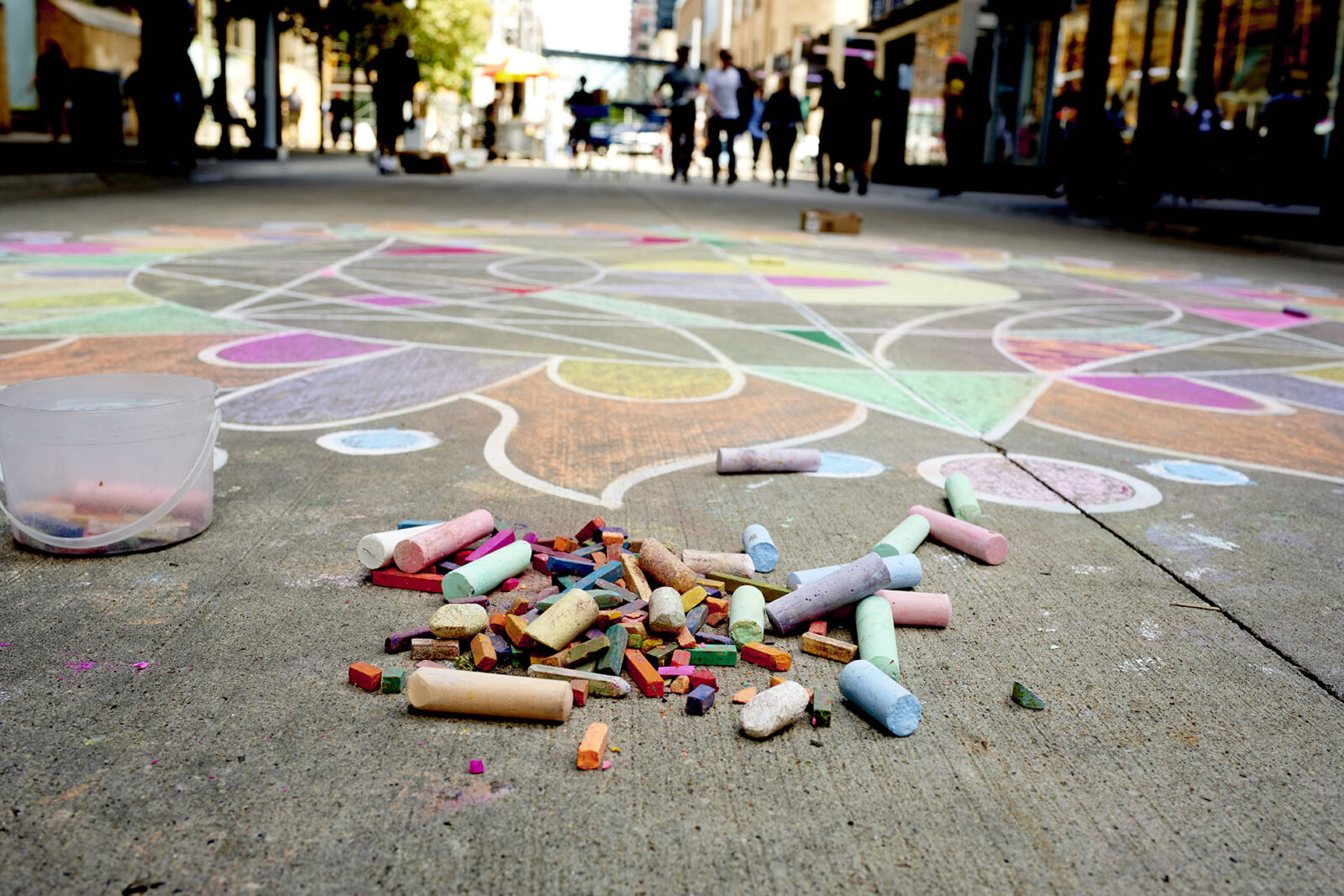 A pile of colorful street chalk lies near a community mandala filled in by 2019 festival goers young and old.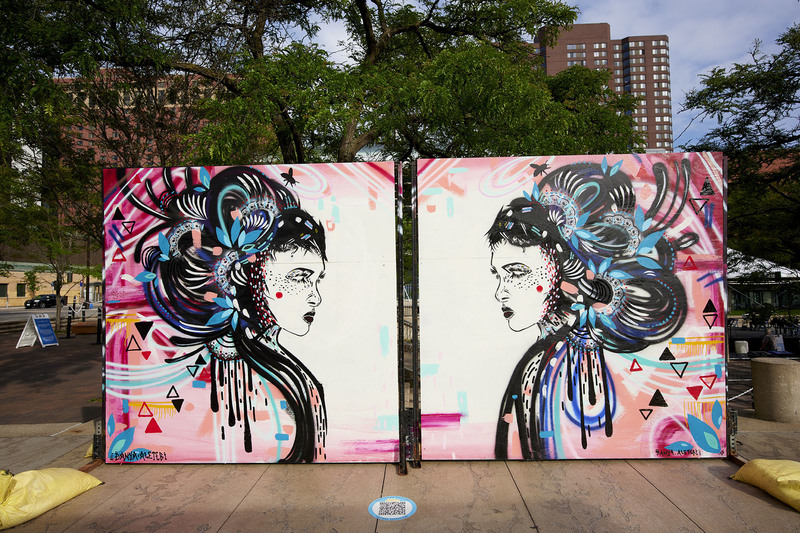 Artist Danya Aletebi's mural installation during the 2020 festival.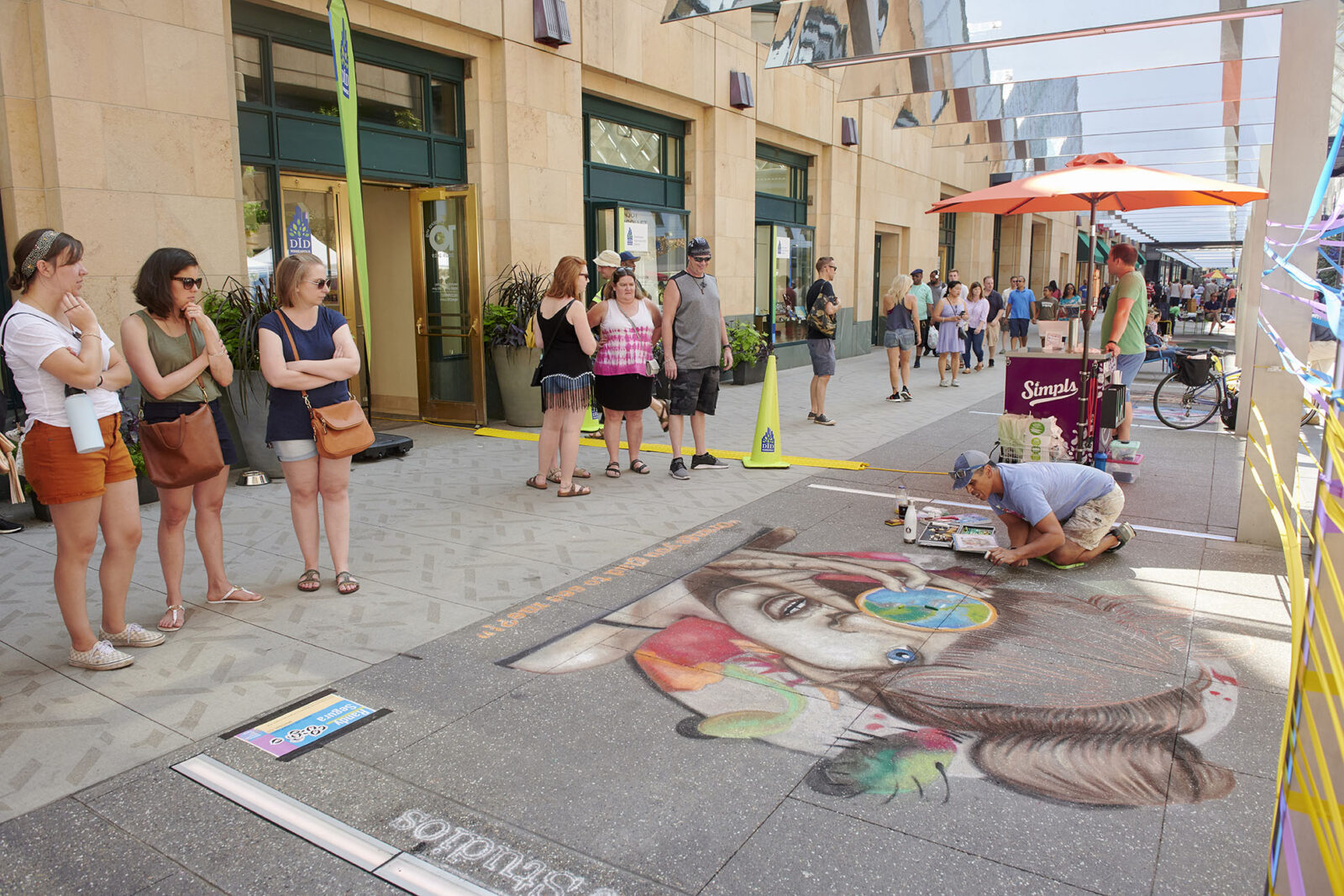 Artist Randy Segura at work during the 2019 festival.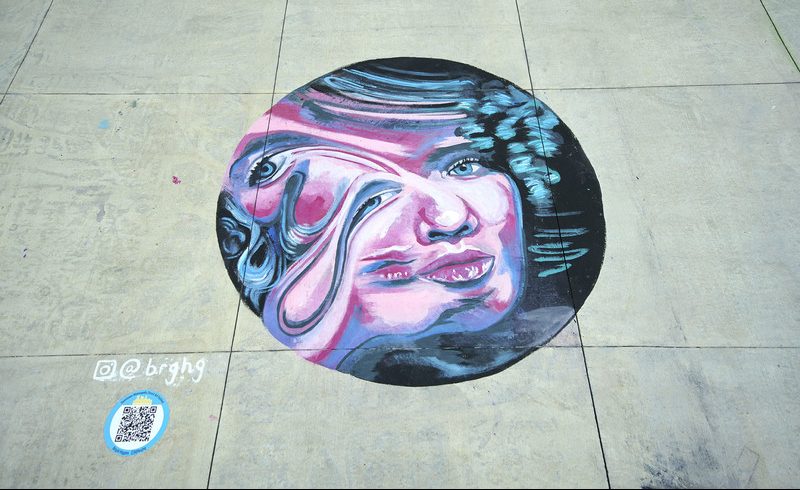 Festival artist Brigid Higgins finished chalk art in 2020.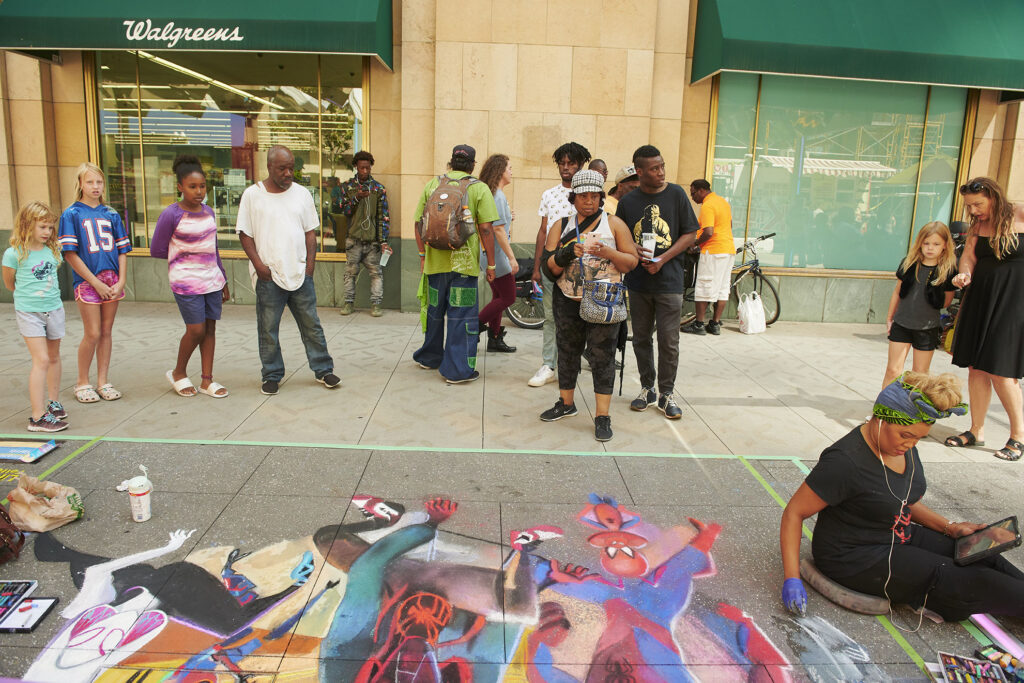 Artist Amanda Harris at work during the 2019 festival.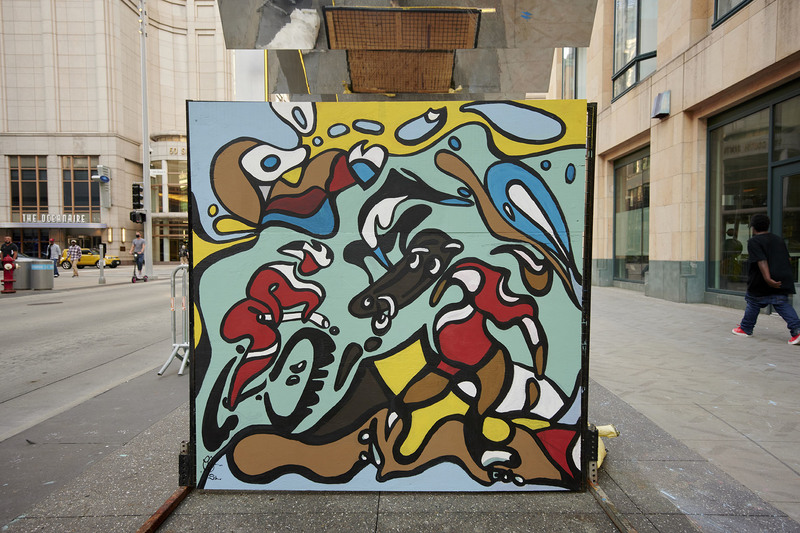 A colorful mural by artist Chris Harrison from the 2020 festival.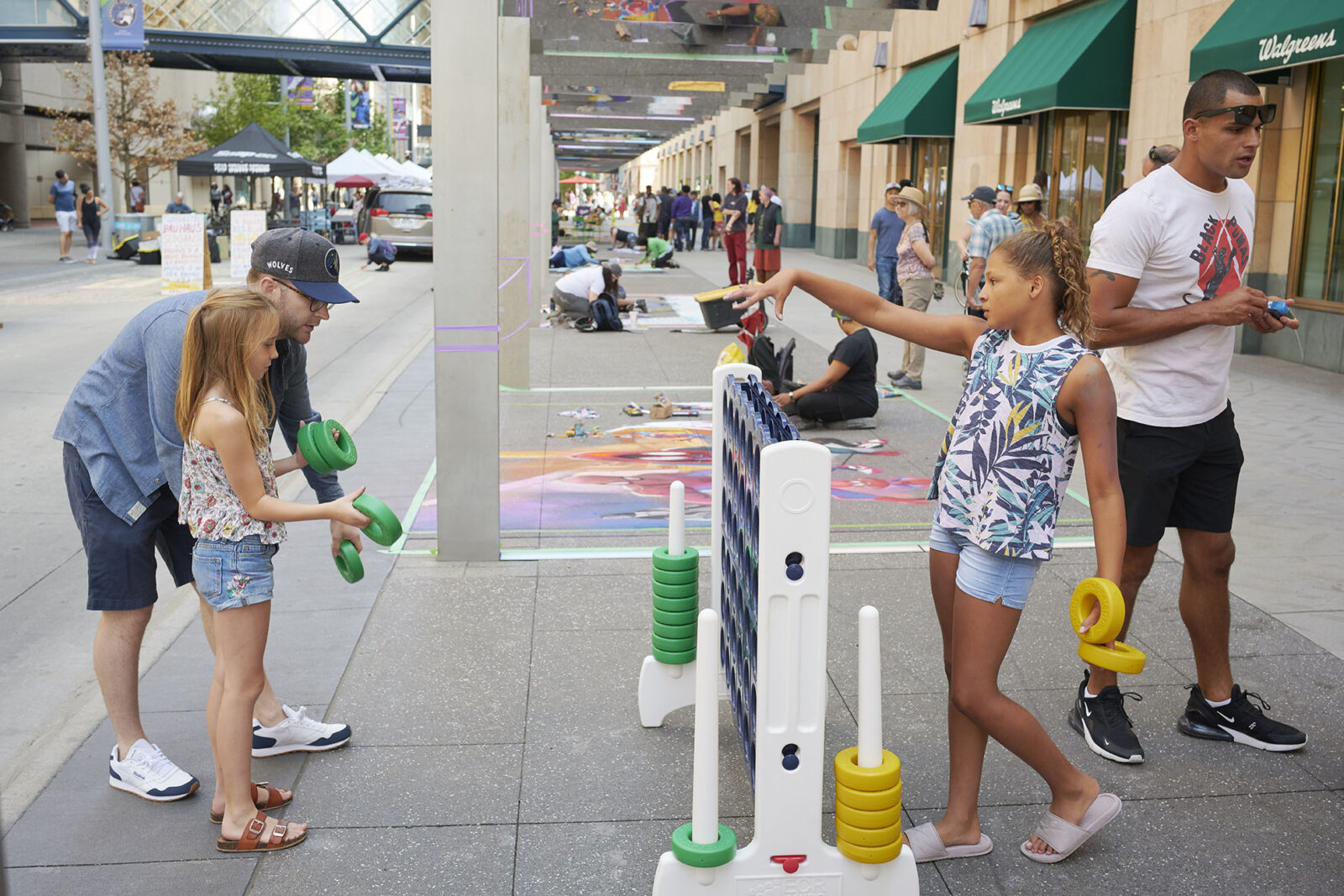 Street games and other activities delighted 2019 festival goers.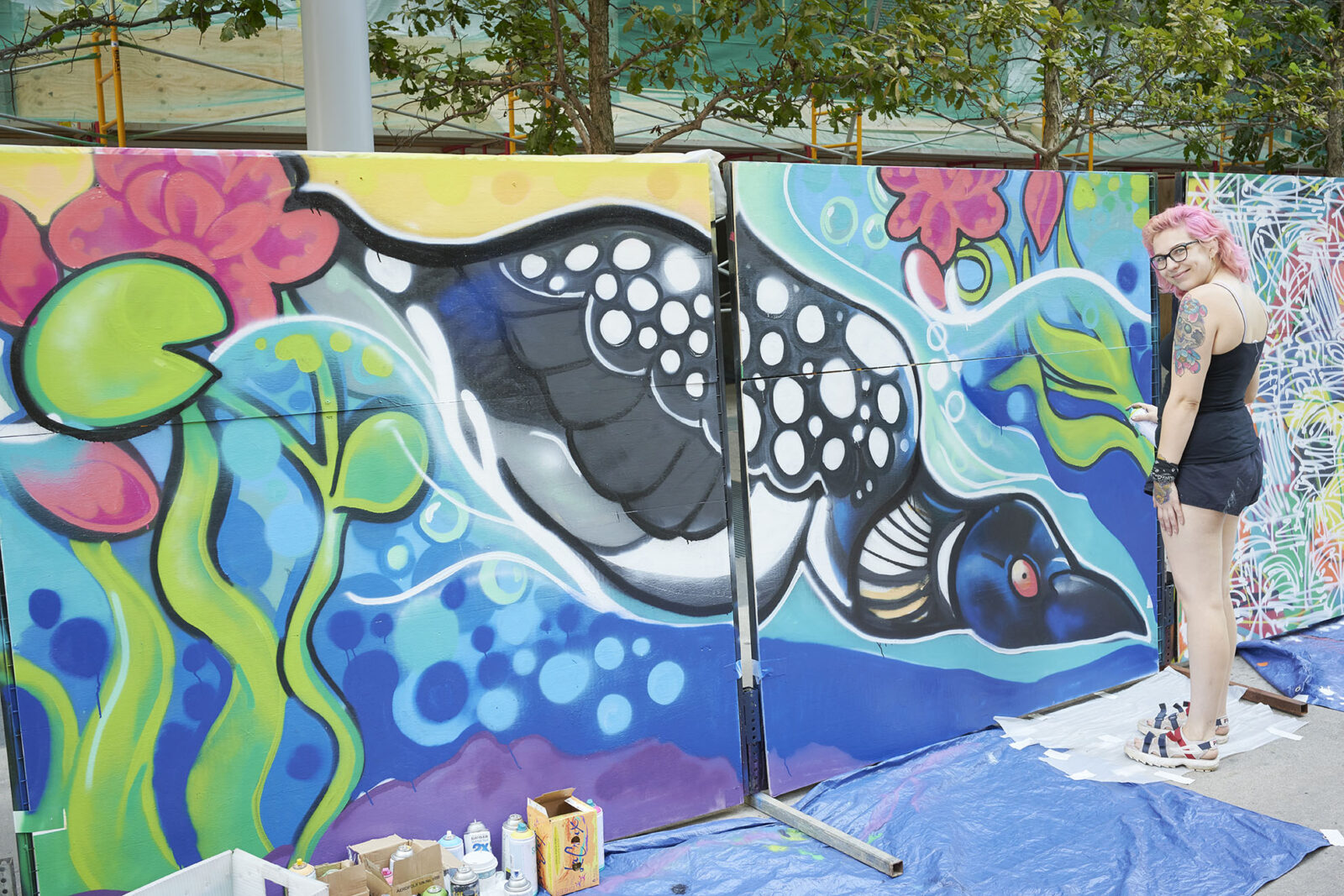 Artist Sig Natur at work during the 2019 festival.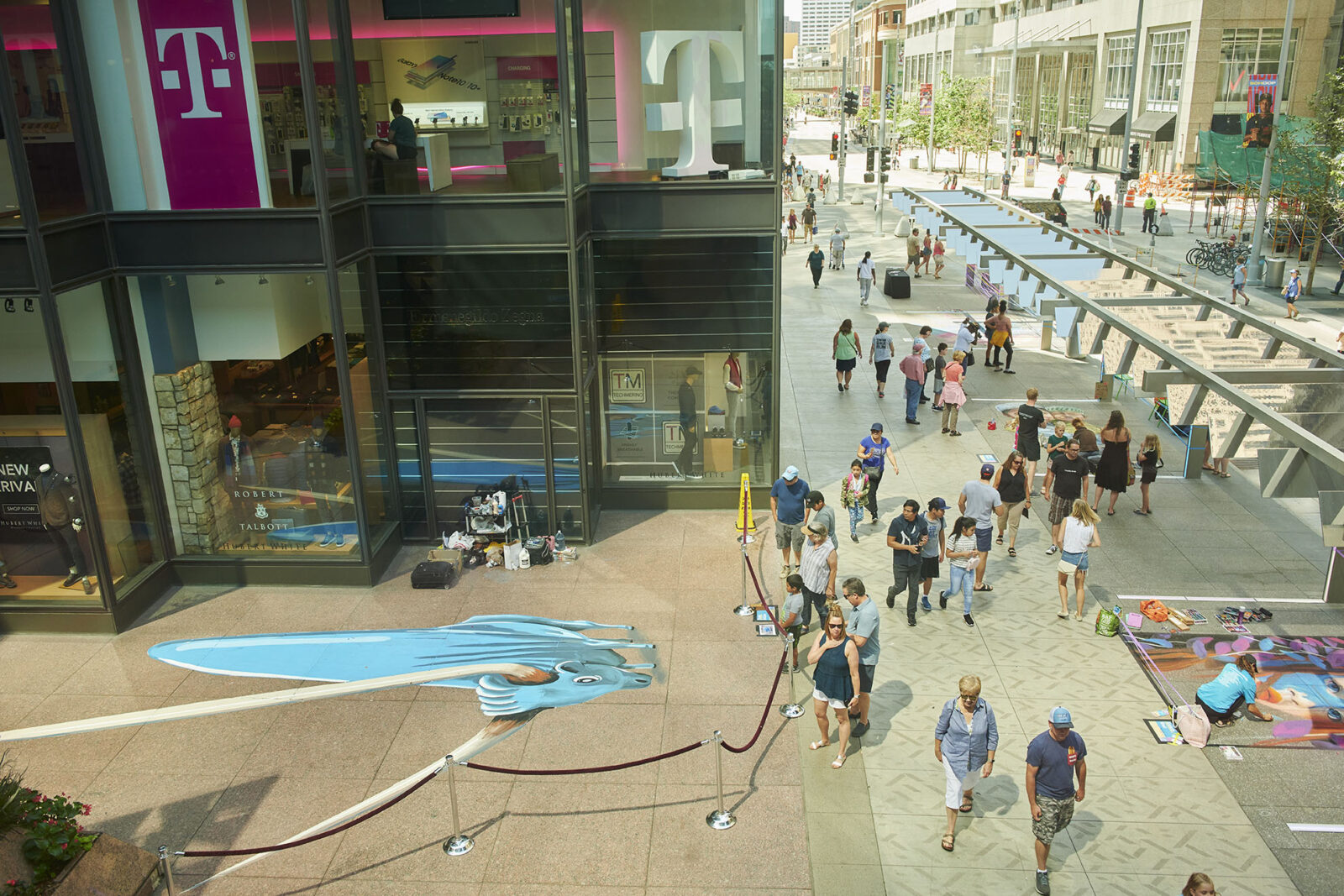 Artist Shawn McCann's 3D Babe the Blue Ox chalk work amazes onlookers during the 2019 festival.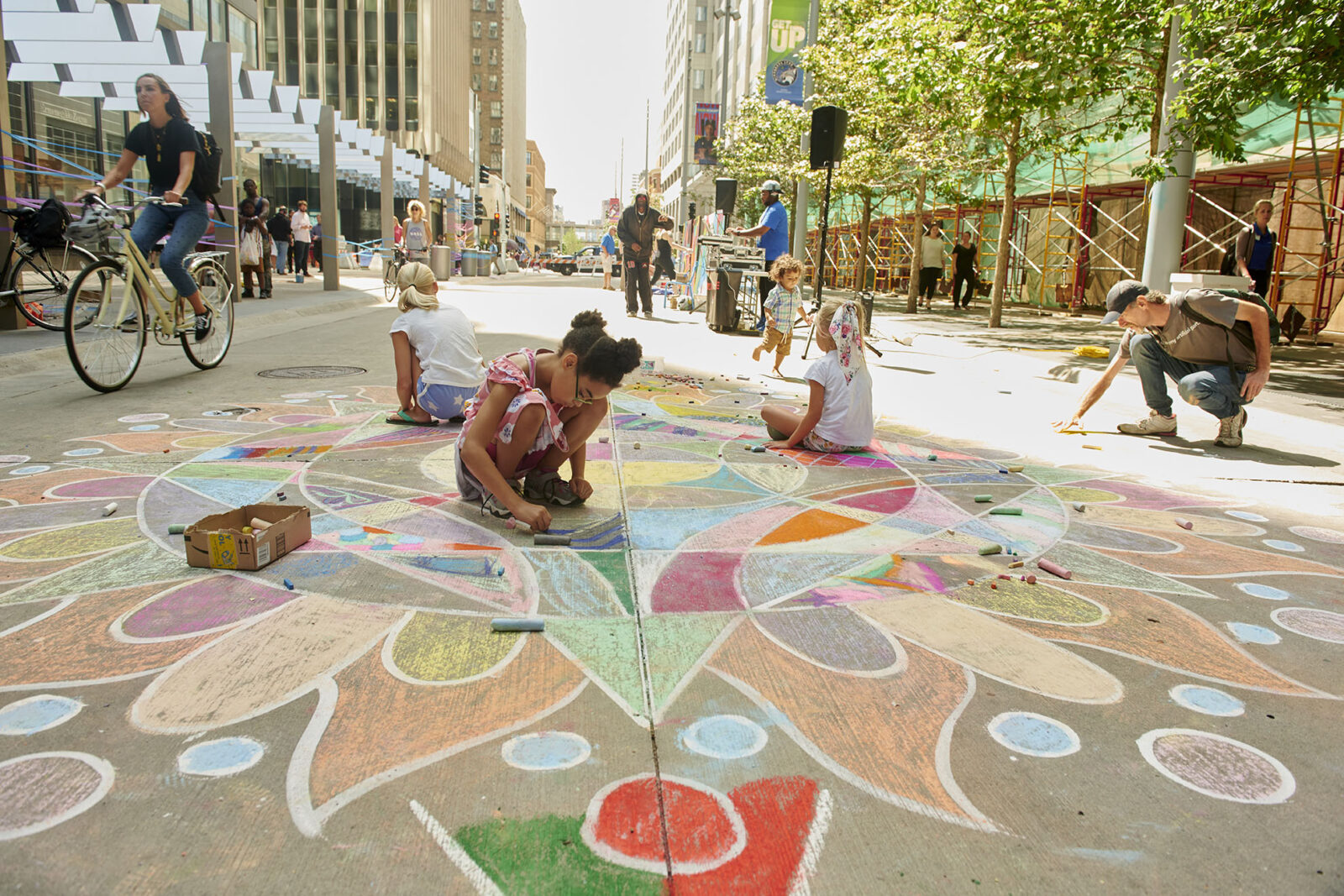 A young 2019 festival goer contributes to the community chalk mandala.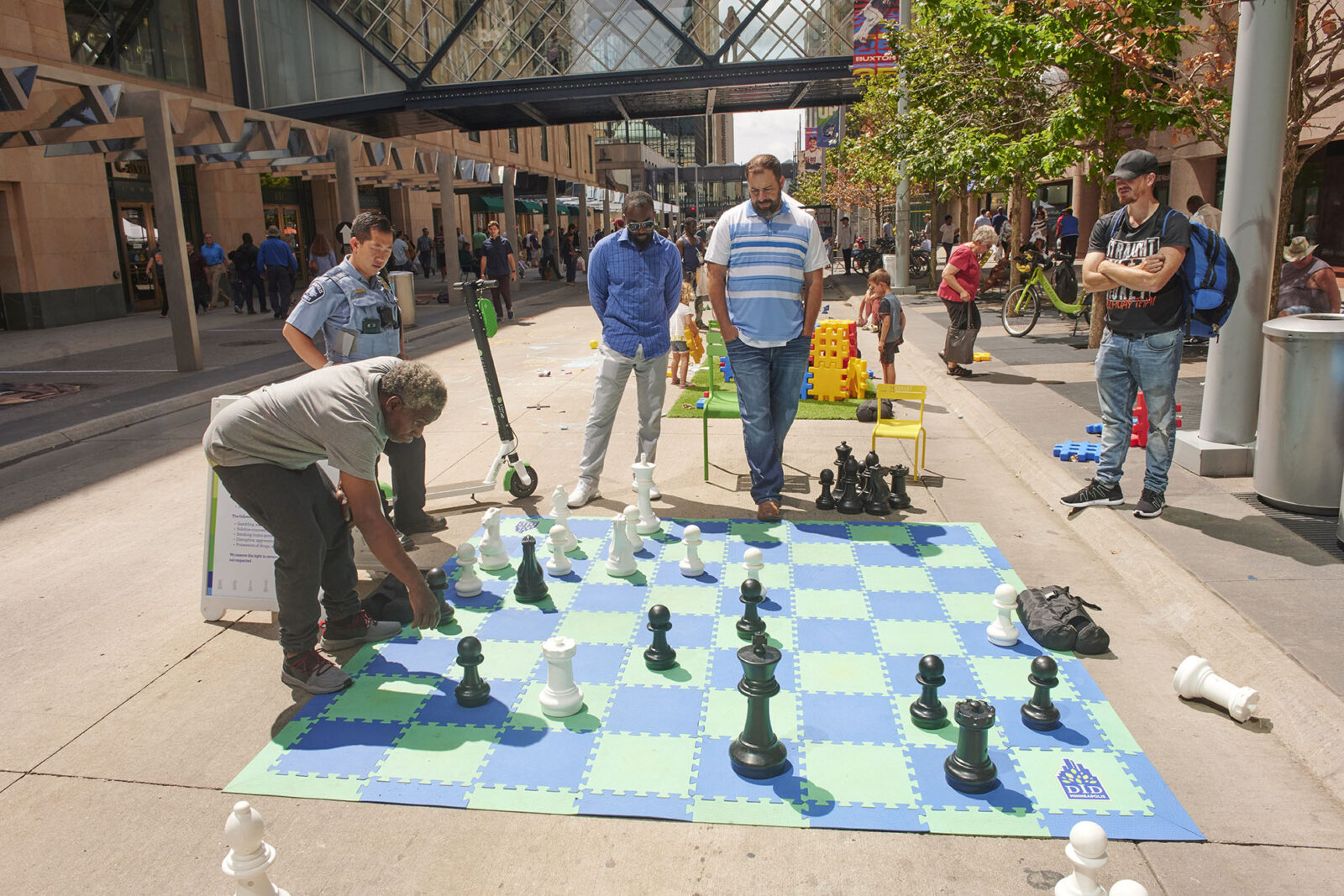 2019 festival goers play a game of giant chess as MPD Officer Her looks on.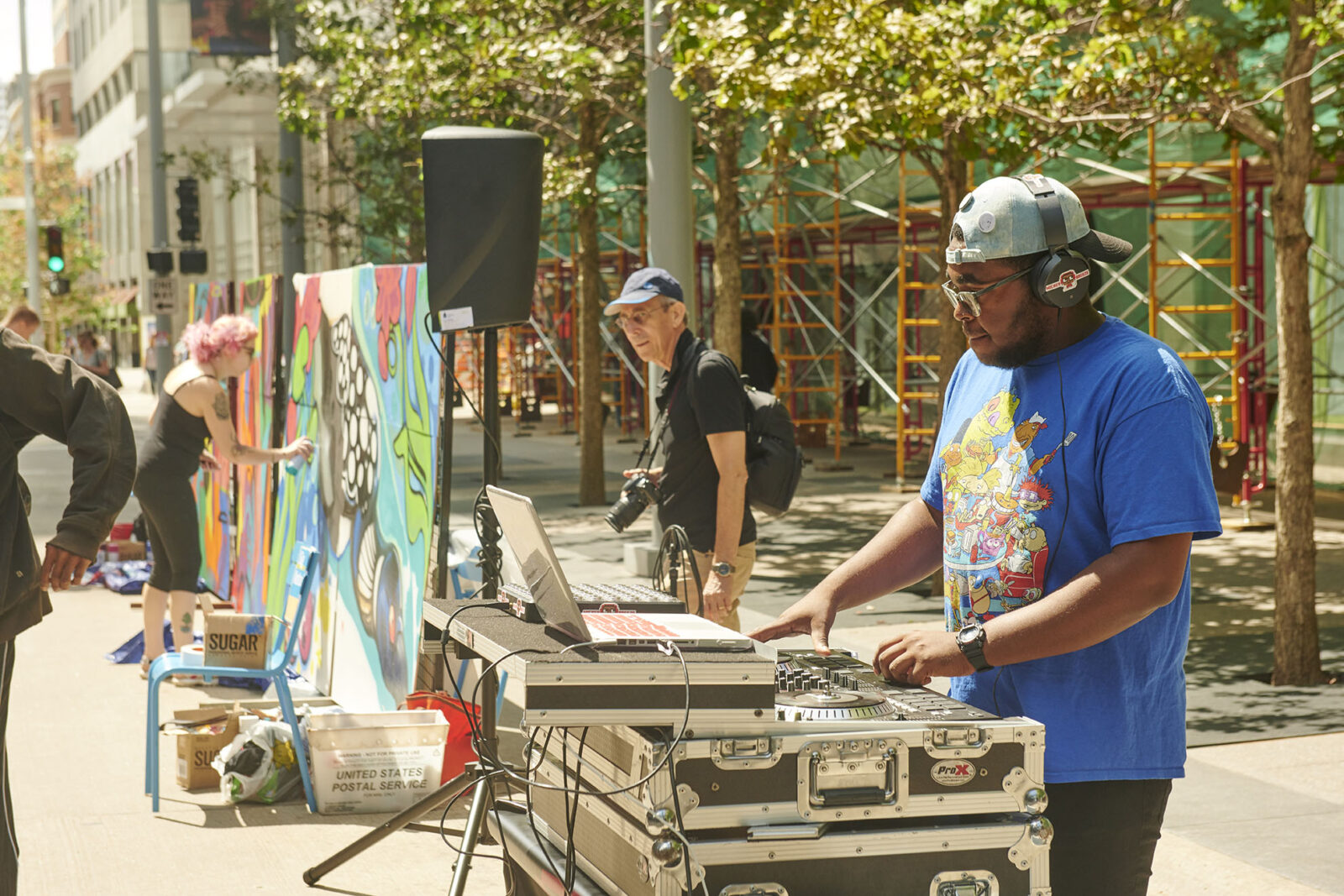 DJ Mickey Breeze kept the beats coming during the 2019 festival.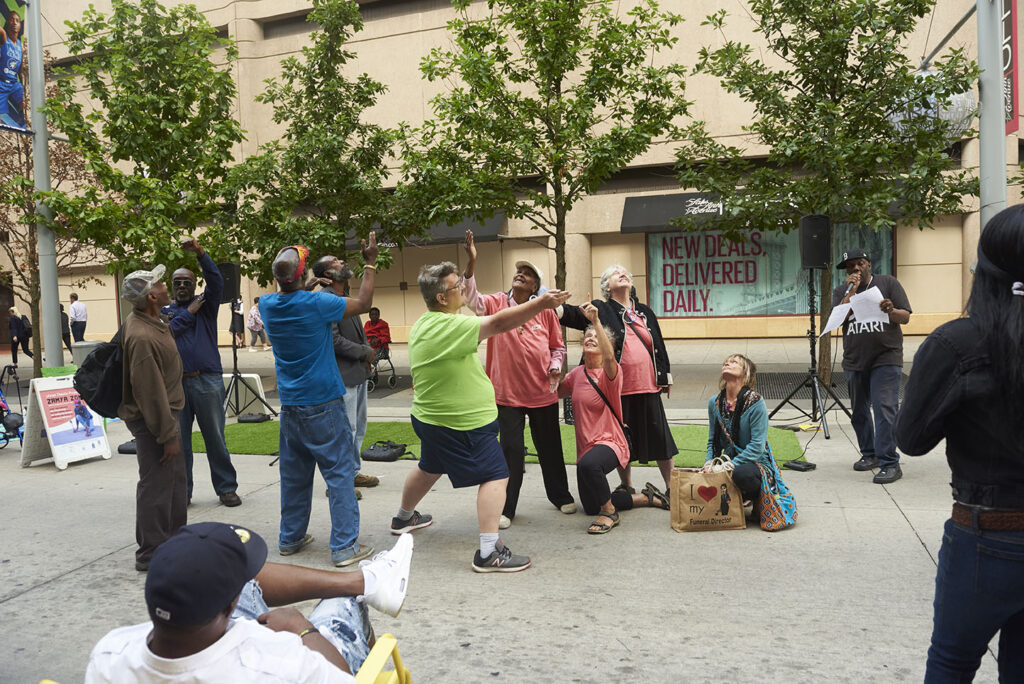 zAmya Theater Company performs stories about hope and homelessness during the 2019 festival.
About the Festival
The annual Downtown Minneapolis Street Art Festival is a free and unique downtown art experience for residents and visitors that celebrates street art in all its forms. We can't wait to bring the festival back to the street in 2021 with more art, performance, craft and fun! We hope to see you for this inclusive and joyful experience in the heart of downtown Minneapolis!
In the meantime, you can still enjoy the amazing street art from the 2020 festival via the virtual art experience online.
Festival Sponsorship
Thank you to our hospitality sponsor AC Hotel Minneapolis for providing hotel space for our street artists. Please review our sponsorship package and contact lmiddag@mplsdid.com for more information.
Call for Volunteers
Volunteers are critical to the festival's success and provide hospitality support to participating artists and festival goers. All you need is enthusiasm for street art, our downtown streets and the diverse audience of festival goers. All volunteers will receive a coveted Downtown Mpls Street Art Festival signature t-shirt and two lucky volunteers (selected by lottery) will join us for an exclusive opening night dinner with the artists. Sign up here!
Call for Artists 2021 Now Closed
The artist call for 2021 is now closed. Thank you to all the artists who applied and were interested in participating in this year's Downtown Minneapolis Street Art Festival! If you have any questions concerning the festival, please contact festival organizer dolson@mplsdid.com for details.